Here we are again- it's time for this week's NFL Pool wrap-up and preview.
Last week: 10-6
Summary: Yellow! For the first time in 13 tries, I won the pool last week with a 10-6 record, a tie for my best performance yet (and that was week 1). Although the final tally is not in yet, I have also gained a number of games in the overall season standings in the past few weeks. So as you can see by this handy graphic, after a few bleak weeks, things are looking up.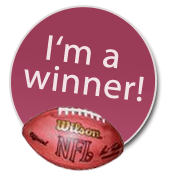 Season to date: 97-77 – Good for 56%
My for this week are below in BOLD. Leave yours in the comments!
Cle at Pit – CLE – 0-1
Oak at Cin – Cin
Min at Det – Det
Bal at KC – KC
NE at Mia – NE
Atl at TB – Atl
Phi at Was – Phi
NYG at Car – NYG
Ind at Jax – Ind
Ten at Hou – Ten
Sea at Arz – Sea
GB at SF – SF
Buf at NYJ – NYJ
Den at SD – SD
NO at Dal – NO – Upset of the week
Chi at STL – STL (30)