After much hard work, I'm pleased to announce my latest project! It's called Maine Impact, and it's a podcast covering news, politics, and technology with a focus on Maine and an eye towards the world at large.
My good friend Lance Dutson of the notorious and heralded Maine Web Report has graciously agreed to lend his keen wit and eye for issues by co-hosting and co-producing Maine Impact with me. Our goal is to produce two original episodes per week- released at 6am on Tuesdays and Thursdays- and to work hard to integrate comments and editorials from listeners into our shows.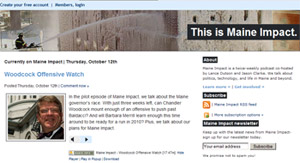 Our first episode debuted yesterday. You can subscribe to it, download it, or listen to directly within the browser here. Next week, we've got interviews with two Maine House candidates coming up, and we're exicted about that aspect of the show. During and even after election season, we'll bring you more interviews with Mainers from politicans to bloggers to regular folk.
You may find the production quality in these first few shows to be lacking that of an NPR or another typical radio program. And although we never hope to be just another typical radio program, we do plan to improve the overall production quality of Maine Impact as we become more epxerienced at the form. All that in the way of saying, please bear with us, and please stick around. We plan to get better.